RE

VOLUTION IN

RE

CYCLABLE PACKAGING
Making the world more sustainable
ETHY-LYTE™
Step up to the future
Passionately engaged with looking after our planet, we are committed to delivering more sustainable packaging solutions. One result is our latest breakthrough technology development ― Ethy-Lyte™: a range of BOPE films designed to create fully recyclable mono-PE packaging to replace mixed plastic structures, which can be difficult to recycle.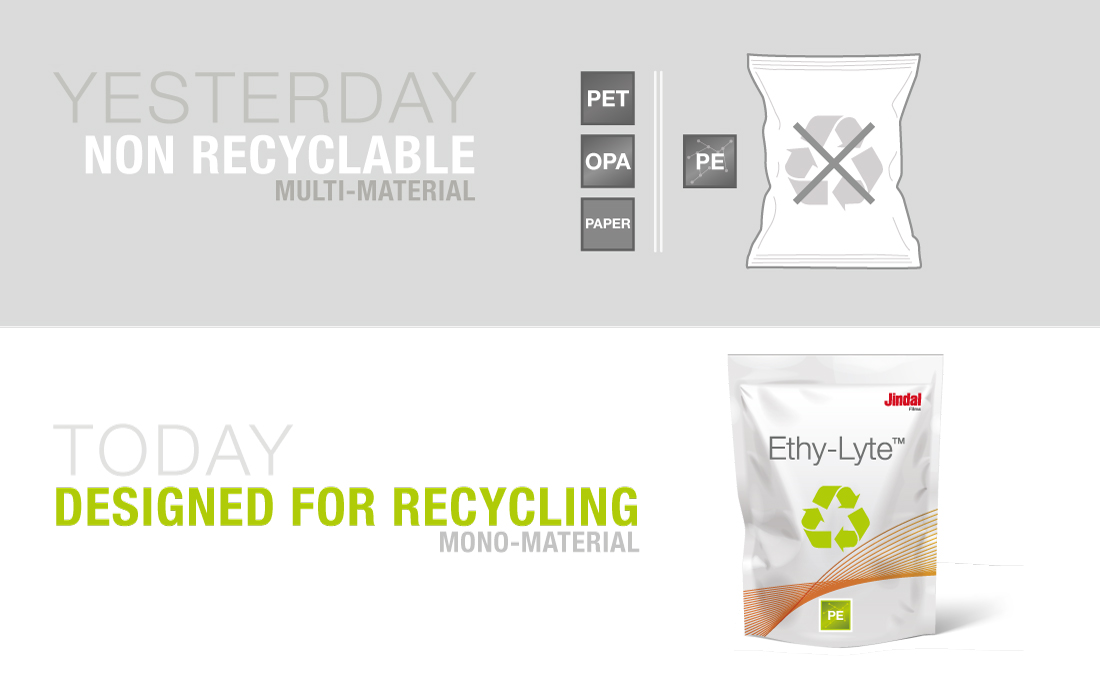 All you need is…
GREEN
A sustainable solution
Ethy-Lyte™ films are designed to be fully recyclable.
PERFORMANCE
Fit for purpose
Ethy-Lyte™ delivers on packaging printing, production and barrier.
CARE
Protecting your product
By using Ethy-Lyte™, you protect your product with the lowest environment impact.
Hold on ! Tell me more…
Ethy-Lyte™ is the alternative recyclable solution to conventional OPET or OPA print films to be laminated with PE sealants generating PE mono-material structures for easy recycling.
THE TECHNOLOGY BEHIND ETHY-LYTE™

A breakthrough recyclable BOPE mono-material packaging solution powered by an advanced bi-axial orientation process that transforms polyethylene into the Ethy-Lyte™ range. The technology produces films which delivers outstanding heat resistance and excellent mechanical and optical properties for exceptional printing, converting, packaging performance and product protection. Laminated with PE sealants, it creates fully recyclable mono-PE packaging compatible with existing and future recycling streams.
Comparative printing quality
Sealing window at 50 packs per minute with PE30 lamination
Water vapour barrier gr/m²/day
COMPARATIVE PRINTING GRAVURE TEST @600m/min
SEALING WINDOW VFFS TEST
@ Jindal Films Technology Centre: 50 packs/min with PE30 lamination*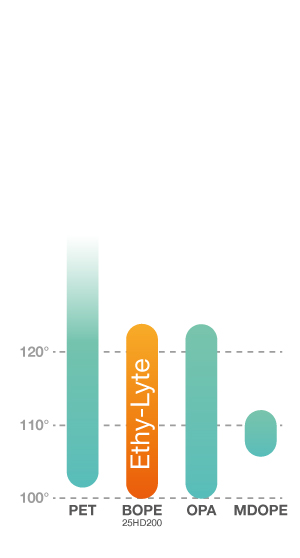 *Source: Jindal Technology Centre & literature
WATER VAPOUR BARRIER
gr/m²/day*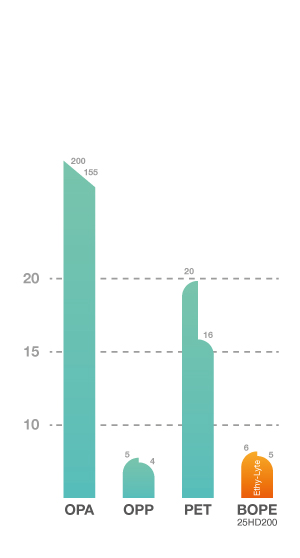 *Source: Jindal Technology Centre & literature
High-quality print and registration with Ethy-Lyte™
Ethy-Lyte™ BOPE films have been proven to deliver:
High efficiency and best printing results in flexo-, rotogravure and digital printing.
Complex printing designs and attractive packaging.
High clarity and gloss for elevated packaging appeal and brand visibility on retail shelves.
Ethy-Lyte™ runs efficiently on packaging machines with excellent bond strength.
Designed to be laminated with a PE sealant film, Ethy-Lyte™ HD200 delivers proven performance on HFFS, VFFS and SUP packaging machines.
Thanks to the heat resistance of Ethy-Lyte™ HD200, the final mono-PE laminate structure offers a broad operating window and high packaging line speeds are possible.
With product protection being the main function of flexible packaging, the moisture barrier provided by Ethy-Lyte™ improves shelf life, compared to conventional PET films.
Where can Ethy-Lyte be used?
BOPE mono-material Ethy-Lyte™ films can be used in various industries and many different applications.
The Ethy-Lyte™ range of films offers best performance on a wide range of packaging formats, including: VFFS, HFFS and SUP.
Wherever you need to use mono-PE packaging structures, Ethy-Lyte™ is the right solution for your products.
Think about the salted nuts you pick up at the grocery store or the wet-wipes you buy in the supermarket. And what about the film of your plastic bag containing pet food for your cat or dog? Or the chocolate bar or other confectionary products you just bought as a treat at the petrol station? All these examples are ideal for our mono-material BOPE film.
But, also think about any kind of food, fresh or frozen, bakery items, fresh fruits, dairy products, and your bags of lovely smelling coffee beans. Our film is applicable for a great deal of different applications.
Join us on our journey to make the world more environmentally friendly ― starting with recyclable packaging film for your everyday products.
Shaping the future to improve protection
Ethy-Lyte™, an innovative modular platform, will continuously evolve using Jindal Films top coatings and vacuum deposit technologies to enhance barrier performance.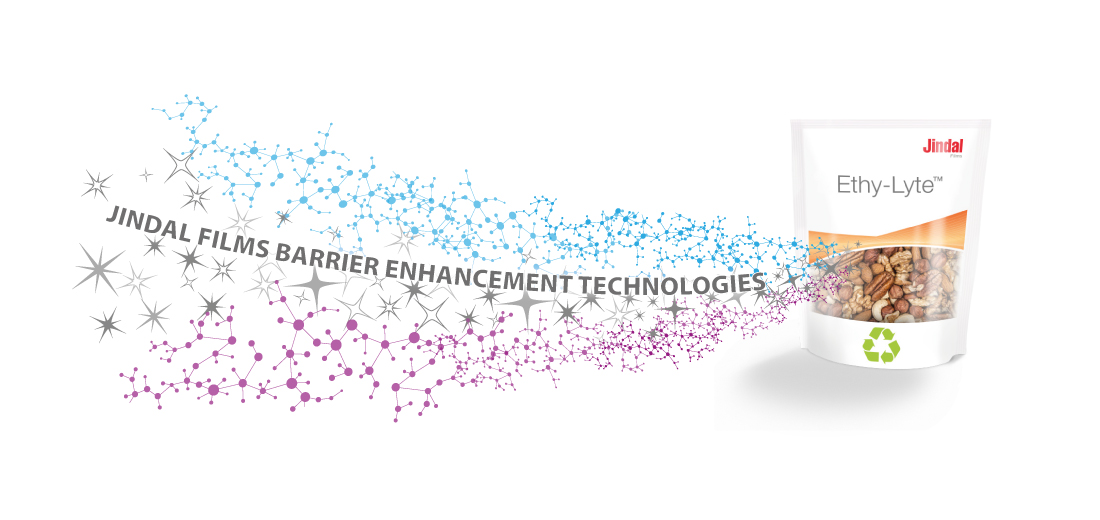 Ethy-Lyte™ is your fully recyclable mono-material PE packaging solution.
This is just the start of the Revolution. More to come. Stay tuned.
PRODUCT DATA SHEETS
You will find the technical data information for all available products in the dedicated product data sheets. Simply click below