JINDAL FILMS EUROPE NOMINATED FOR A "GREENER PACKAGING AWARD"
Company nominated in the "packaging weight and volume reduction" category
Vertical packing of film reels reduces weight from 130 kg to only 1 kg
Number of trucks required reduced by 25 percent
Luxembourg ( December 2, 2015) — As a leader in the production of specialty biaxially oriented polypropylene (BOPP)  films for the food packaging and labeling industries, Jindal Films Europe knows that its technology can play an important role in delivering sustainable solutions to end users, by protecting and promoting packaged products.
To encourage creative innovations that reduce the environmental footprint of packaging, two trade associations based in Belgium, Fost Plus and Val-I-Pac, initiated the "Greener Packaging Award" in 2013. The aim of the Awards is to reward companies that have delivered exceptional efforts to reduce the environmental impact of their household or industrial packaging.
As a company providing innovative solutions to the market, Jindal Films Europe decided to enter the award with its new vertical packaging solutions for films reels.
Indeed, packing reels in a vertical mode as shown in the diagram below, allows Jindal Films Europe to reduce the weight of packaging materials from 130 kg to only 1 kg, while offering other significant advantages including:
optimizing the truck loads (saving 25 percent truck needs, so 1 truck out of 4)
reducing unpacking time from more than an hour, for a full truck, to only 15 minutes
       BEFORE                            AFTER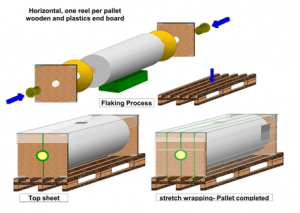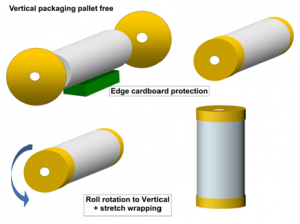 The vertical packaging solution was well received by the Greener Packaging Award committee and it was nominated in the "packaging weight and volume reduction" category.
"This nomination rewards the tremendous efforts that we have made to reduce the packaging environmental footprint for the market and our customers," said Bernard Bresmal, packaging Engineer, Jindal Films Europe. "It is a great achievement for our sales and marketing, supply chain and manufacturing teams who contributed to the development and implementation of this new method of packing our products. The Award is also for customers who greatly appreciated this initiative at their facilities, reducing the level of waste generated while allowing easier unpacking operations."
This nomination further highlights the importance of innovation to Jindal Films Europe. "You could say it's part of our DNA," said Christophe Heintz, Market Development Manager.  "It is a core value and we will continue to optimize our packaging and provide new films to the market that allow our customers to pack and label their products in the most efficient way to meet future challenges."
For further information on the Greener Packaging Award and the 2015 participants visit: https://www.greenerpackaging.be/presentation-des-laureats/2015/
Our packaging video can be seen at:  www.greenerpackaging.be/participant/jindal-films/
###
About Jindal Films
Jindal Films is a global leader in the development and manufacture of specialty oriented polypropylene (OPP) films, including multilayer white opaque films, metalized films and coated films, for flexible packaging and labeling applications.
The company is renowned for the global supply of high-quality products which include: Bicor™, Oppalyte™ and Metallyte™ films for packaging applications, and Label-Lyte™ film for label applications.
Jindal Films has affiliated production plants in Europe (Virton, Belgium; Kerkrade, The Netherlands; and Brindisi, Italy), and in the United States (LaGrange, Georgia; and Shawnee, Oklahoma). The company and its affiliates have sales offices to support customer needs in countries around the world, including North America, Europe and Asia.
For more information visit www.jindalfilms.com or contact us at info@jindalfilms.com
Note to Editors
Metallyte™, Bicor™, OPPalyte™ and Label-Lyte™ are registered trademarks of Jindal Films.