Jindal Films Europe, a leading manufacturer of specialty biaxially oriented polypropylene (BOPP) films, today announced the initiation of a broad reinvestment strategy.  JFE will increase Metallizing & Extrusion capabilities at its Brindisi site.
A world-class 10.5m orientation line will be installed by Q4, 2016, increasing capacity by more than 50,000 tons per year and further improving production flexibility. The Metallizer is expected to start-up in Q2, 2016 and will add 10,000 tons of  metallization capacity.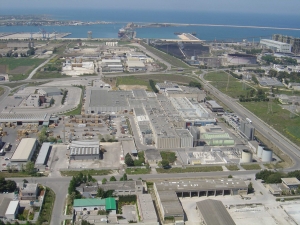 "This investment reinforces our commitment to providing customers with a long term supply strategy and strong technology", confirms Alessandro Fontanarosa, Brindisi Operations Director. "We have a wide range of quality products, and continue to focus on expanding our reach with next generation solutions".
"This investment strategy underscores the confidence we have in our employees, our customers  and our suppliers  to aggressively grow the specialty films business – said the CEO & Executive Vice President Jindal Films, Scott Van Winter.  We're able to leverage exceptional technology and a solid asset base with a global  presence, enabling us to provide solutions everywhere in the world. "
About Jindal Films
Jindal Films is a global leader in the development and manufacture of specialty oriented polypropylene (OPP) films, including multilayer white opaque films, metalized films and coated films, for flexible packaging, labeling & other applications.
The company is renowned for the global supply of high-quality products which include: Bicor™, Oppalyte™ and Metallyte™ films for packaging applications, and Label-Lyte™ film for label applications.
Jindal Films has affiliated production plants in Europe (Virton, Belgium; Kerkrade, The Netherlands; and Brindisi, Italy), and in the United States (LaGrange, Georgia; and Shawnee, Oklahoma).
Project  co-financed by EU – Regional Development European Fund – POR Puglia 2014/2020 – Action 1.1-Action 1.2
Progetto cofinanziato dall'Unione Europea – Fondo Europeo di Sviluppo Regionale – POR Puglia 2014/2020 – Azione 1.1-Azione 1.2
For more information visit www.jindalfilms.com or contact us at info@jindalfilms.com
Note to Editors: Metallyte™, Bicor™, OPPalyte™ and Label-Lyte™ are registered trademarks of Jindal Films.