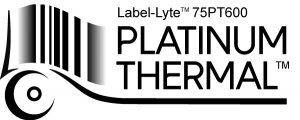 Jindal Films has developed a breakthrough single-polymer substrate that simplifies thermal/barcode printing and offers unique advantages compared to traditional technologies. The innovative Platinum ThermalTM film is a white, surface-printable polyolefin film that can replace both coated direct thermal (DT) substrates and thermal transfer ribbons (TTRs).
Platinum ThermalTM film offers high resistance to heat, UV light, water and chemicals.  It is heat-stable up to 130°C (266°F) for any period of time and demonstrates far superior performance to DT-coated substrates.  The surface and printed images are not affected by water, nor are they irreversibly darkened by volatile solvents such as xylene. Platinum ThermalTM film is estimated to have an outdoor lifespan of at least 18 months, although an expanded outdoor testing program is in progress. TTR users can reduce waste, as there are no spent ribbons to dispose of. Additionally, users of DT substrates can extend printer life by eliminating abrasive DT coatings.
Platinum ThermalTM provides outstanding printability, displaying excellent compatibility with a broad range of ink systems, including UV and water-based printing technologies. The film is also compatible with a wide range of printing systems including standard thermal or barcode printers, water-based flexographic, UV flexographic, letterpress and screen, and solvent rotogravure, while its reverse surface easily accommodates pressure sensitive adhesives. The film offers the potential for significant cost reduction compared to DT substrates and labels printed with full resin or wax/resin TTR.
There are many potential applications for Platinum ThermalTM including pressure sensitive labels, point-of-sale (POS) products such as receipts and thermal papers, as well as tickets and tags.  It is well suited for both indoor and outdoor applications, especially where chemical or water resistance is required, including meat and food packaging, consumer products, logistics labels, medical labeling, industrial labeling (such as plumbing parts) and office products. "Early test results and initial engagements underscore the enormous potential of this new thermal printing technology across a broad range of applications and markets," said Terry Jensen, Business Development Manager at Jindal Films Americas.
Platinum Thermal film is also approved for FDA's Food Types and Conditions of Use are set forth in 21 C.F.R. § 176.170(c), Tables 1 and 2.